Definition of SWOT Analysis
What is SWOT Analysis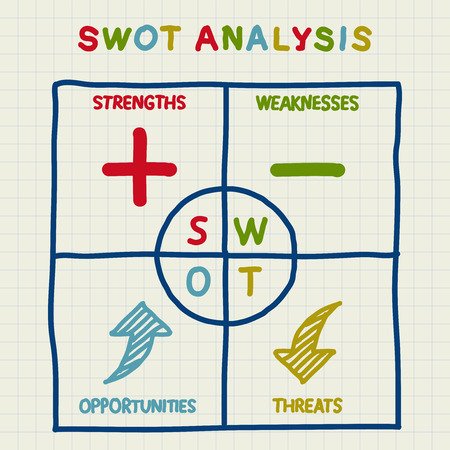 Copyright: vectorscore / 123RF Stock Photo 

Here is the definition of SWOT Analysis.
It a way of businesses or organisations to analyse their situation and decide actions to improve their position by looking at their internal Strengths and Weaknesses and external Threats and Opportunities.
What does SWOT stand for? It is an acronym for
S stands for Strengths
W stands for Weaknesses
O stands for Opportunities
T stands for Threats
SWOT analysis is an important tool for rapidly establishing the overall strategic position of a business and its environment.
It is an important step in helping determine your business strategy and so lead you to your business intelligence strategy.
Once key issues have been identified, they feed into business objectives, particularly marketing objectives and goals.
Definition of SWOT Analysis
Sometimes you can apply it to projects and other ventures.
It is a very popular tool with business and marketing professionals because it is quick and easy to learn. It is subjective though and is best done by involving a good cross section of staff and external people, so that you get as complete and objective set of SWOTs.

Strengths and weaknesses are Internal factors. For example, cash rich or the opposite - large bank overdraft. For example,
People - Skills, Attitude, Training, Knowledge
Products - Quality, Price, Life Cycle
Operations/Production - Capacity, Flexibility
Organisation - Structure, Relationships
Systems - Computer, Databases, Monitoring Dashboards
Finance - Balance sheet, Cash Flow
Reputation - Customer opinion
Opportunities and Threats
are
External factors
. For example,
Economy - Strength of Currency
Market - Growth/Decline, Fashion Trend
Legislation - Pollution, Product Liability, Energy, Healthcare
Technology - Substitutes, New Tools, Artificial Intelligence
Society - Ageing Population
Environment - Recycling, Increased Testing, Protection
Opportunities should be grasped and Strengths built upon and maximised. Threats and Weaknesses should be eliminated or minimised.
For more SWOT Analysis Criteria examples and ideas
Strategy-Making and How Best to use SWOT
Strategy making is not about establishing a link in your market conditions and your existing capabilities to find the best way forward. It's about making choices and taking risks to get where you want to be.
How does the definition of SWOT analysis fit into this framework?
Roger L. Martin is a professor at and the former dean of the Rotman School of Management at the University of Toronto. He is a coauthor of Playing to Win (Harvard Business Review Press, 2013) thinks it is better to consider five questions as below. He takes a capability driven approach.

Read more from Roger Martin Building a Strategy

His preferred approach is to treat strategy- making as developing a set of answers to five interlinked questions. The questions — which cascade logically from the first to the last.
Use these questions to find a place where-to-play and how-to-win — then do SWOT analysis on that area.
The questions are as follows:

What are our broad aspirations for our organization & the concrete goals against which we can measure our progress?
Across the potential field available to us, where will we choose to play and not play?
In our chosen place to play, how will we choose to win against the competitors there?
What capabilities are necessary to build and maintain to win in our chosen manner?
What management systems are necessary to operate to build and maintain the key capabilities?

Click here to see SWOT examples
Go to Top of 'Definition of SWOT Analysis